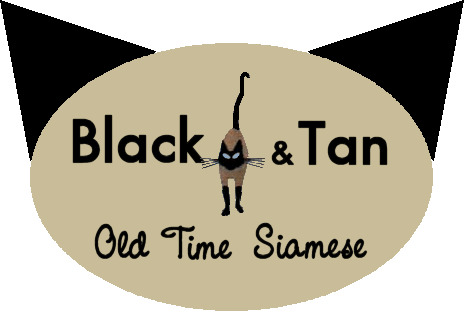 A FEW LINES ABOUT OUR FELINES
Comments from out kitten owners
...............personal information has been removed for the privacy of my clients............
Dear Black&Tan,
---
I want to thank you so much for everything you do, from the supreme care you give your cats, the fantastic website and documenting of the kittens, your wonderful home, to your generosity with the take-home bed, toys, litter and food. I do not believe that there is another breeder who comes close to you. Be assured that Coquin has a good home, and I am always thinking of how good his life was with you, and try to continue the great start you gave him, and all your kittens.

Thanks again for everything

Jean (Massachusetts)
---
.....I wanted you to know that all is very well with our new babies. They have adjusted amazingly well........Belle is incredibly social! She was darting around the apartment in no time and even getting on each of our laps. Koota was a bit shy at first, staying just out of sight but still close to the action. But soon, with Belle's and my encouragement, she too was all over the place exploring, discovering and playing. They are absolutely wonderful kitties - we couldn't be happier..........thanks for doing such an outstanding job getting their little lives off to a great start - they are just perfect in every way.
Warmly, Beth & Steve (Massachusetts)
---
I thought you might want to know how Cocoa is doing…..

Cocoa has really bonded with me and purrs quite a bit. He rubs against all of the kids and plays with them a lot. The children are very gentle with him. Patrick, in particular, really loves to play with him....I feel that Cocoa is really adjusting here very well. He is so sweet and beautiful. He is a wonderful addition to our family.


Marybeth (Massachusetts)
---
......Our vet has repeatedly praised the job you did with our Siamese. He has said what a pleasure it was to see such a "healthy pure bred" where the breeder "knows what they are doing" and considered the "health, physiology, and personality of the animal and not just the physical characteristics, which are beautiful in her case." ......
Thank you for passing on comments from your Veterinarian. We are in a difficult spot breeding not to show standard and it helps to hear professional opinions that validate our goal of finding healthy old American lines. We want to perpetuate these wonderful lines before they are lost.
---
......We just wanted to let you know that Fiona/Indigo is setting nicely in her suite her at Hotel McA***. She is finding the accommodations sufficient, but not quite the kitten palace she is used to - LOL. The neighbors are a little nosey and hang outside her door looking for autographs and calling out to her - ahh, her fan club :) She sleeps in the bed that you sent, but has enjoyed items we have purchased - and esp likes a little feather toy my niece brought over yesterday.

She is eating and drinking and using the litter box and is an absolute delight! She has charmed all she has met and I have taken about 50 pics of her so far. Trying to capture her on film makes me appreciate your shots even more.

Our Best, Jillian and Patty (Massachusetts)

......I am very thrilled to report that everything is going wonderfully!! I have taken 100s of pictures and just need to download them and send some off to you.

We followed your advice upon the first introduction of the boys to Fiona. We let Harry in first and then separately Sammy. There was a lot of sniffing and exploring, but no posturing or aggression. I really think your help had a lot to do with some of the ease in introduction.
......Yesterday, she and Harry and later Sam, all cuddled together!! It stopped my heart it was soooooo cute! We have photos! She also groomed Harry's face and ears - or tried to - so stinking cute. Then later in the day, she climbed into the chair with Harry and he started grooming her - unfortunately by the time we grabbed the camera it was over. She laid on her back - totally content - with her little feet kicking, and he washed her face. It was so sweet. She ate it up and was purring sooooooo loudly!.....The whole introduction has gone so well! The multi step process has been well worth it to see everything going so smoothly.
......Patty took Fiona to the vet this morning and all went well. The whole office went gaa gaa over our gorgeous girl and she charmed the whole staff. She was well behaved and allowed everyone to snuggle and examine her. When he was examining her the vet said to Patty "You got a good one here" and that she was really healthy and a great personality and very interactive and playful. And he also said that she was very pretty and so soft.

Ok, just wanted to make sure you heard all the praise you deserve for such a beautiful, well raised miracle!

Our Best, Jillian and Patty
......Harry, Sammy and Fiona are now completely intertwined, and its like they have always been a trio instead of a duo.
Fiona really brings out the best in both of them and has been a breath of fresh air into all of our lives. Sammy has an energetic playmate, Harry has another kitten to "mother" and he is actually playing more than he usually does - her antics amuse him and he will join in some of the games. Fiona and Sammy have these marathon games of tag, and Sammy is less intimidated and is starting to join in when we play with her and toys. Sammy even tried grooming her today - although its not really a great skill of his.
Thanks again for being there, you are a true blessing in our lives! Jillian and Patty (Massachusetts)
---
......Kelly's new name is Misty and she is doing great. She has been to the vet and is up to date with everything. As fate would have it we also found a male kitten from a Siamese Rescue in Canton so Misty has an a step brother we named Simba II. They love each other and my son is absolutely thrilled when the two of them jump on his lap. They are wonderful companions for him.
We will send you a couple of pictures soon. Bob (Massachusetts)
---
......Masae had a great first night. Alicia slept with her. She had lots of attention and was pretty tired. Very friendly and affectionate.

......Masae is a wonderful cat. She's friendly and affectionate. She really had no trouble transitioning to our house. She pretty much has the run of the house now and has slept with one of us since she arrived. The other night both Meeko and Masae were in Kelsey's bed, although not together. So things are looking up. Tonight we are arguing about who will get to sleep with her tonight. We might have to add another cat so that everyone will have one to sleep with.

Masae loves to eat as I'm sure you already know. She seems to be growing right before my eyes. She has not been to the vet yet. I have attached a picture of Tom and Masae on the very first day so you can see how she fit right in. As soon as I get Meeko and Masae together, I send you a photo.
Take care and keep in touch, Nancy (Massachusetts)
---
......Willow had a good first night. I went down to see when we where having dinner, then came back up. when I walked in I sat down and closed the door. Willow walked up to me and sniffed me all over. Then see went and lay down on her bed. She let me walk up and pet her, she let me pick her up and put her in my lap. I stroked her till she fell asleep. When it was time for dinner I placed her back in her bed and went down. When I came up to go to bed, She was up and exploring. Next she came over to my bed and jumped up and curled up by my legs. When I woke up she was under my covers. Willow seems to like her new home, and has discovered how much fun her scratching post is. Thank you for caring for her so well ,

Sincerely, Elspeth

......What a dear thing Willow is! She is adjusting just fine. As early as Saturday morning she was showing a preference for being with us as opposed to being alone, so we let her out of the upstairs room and brought her downstairs... she explored a little bit, then settled into sitting in the sun near Dave as he read the paper in the sunroom. By Saturday evening she was sitting on our laps in the tv room.
Elspeth's older sister has declared Willow a "Steeler fan" because she sat on our laps for the whole Pittsburgh Steeler game, putting up with my husband's loud cheers and claps! Today it's quieter, and she has tended to stay close to me as I move about the house.
We do love this little kitten, who has worked her way right into our hearts (even my husband's, who has always been neutral about pets!). She now seems comfortable throughout the house, and is learning how to follow the sound of our voices to find out where we are. We had a good vet visit Monday afternoon, and Willow is scheduled for a microchip implantation next Tuesday. 
Thanks for your excellent care of her, starting her out so well! We'll keep you posted on how she's doing. 

Our love, Susan (Massachusetts)
---
......The girls are back from the vet and showing their displeasure by staying under the bed, which is a shame because they were beginning to relax and sleep in my lap, at least during the day. Everyone in the office thought they were adorable and the vet's comment was that you had obviously spared no time or expense to give them a good start in life......
......My friend Terry came to visit them last week- I was wondering how the girls would do with a stranger, but far from being nervous, they greeted her with open paws.......
......I can't tell you how happy we are with our girls- they're beautiful, lively, entertaining, and affectionate, especially Willow, but Sasha is coming around, too- I just think she's so full of energy that cuddling slows her down too much. Rich is really surprised and thrilled at Willow's affection for him - they're really cute together, and he says even Allie wasn't that affectionate, so that's high praise indeed! I'm so delighted with Willow and am glad I didn't change my mind that day when I was having second thoughts- she's the perfect complement for Sasha, who is a spritely delight herself. I'll keep you updated and will try to send a couple of photos if they come out well.

Regards, Nancy (New York)
---
......I just wanted to check in and let you know that 'pinky' now know as Jeetah is doing excellent!! She was a bit nervous coming home Wednesday night, but
by yesterday she was running around and playing with me. She is having fun with the toys you gave me and found herself a nice place to hide out and get some rest. I absolutely love her to pieces, she is such a good girl! Thank you so much for letting me take her home, it was by far the best decision I've made.
Thanks again, Michelle (Massachusetts)

UPDATE ......Jeetah is doing excellent. She is absolutely beautiful. She is still very light in color. I will take a digital picture and send it to you. As of now, all I have is 35mm pictures cause I wanted actual pictures to frame and hang up. I never used to download them from my computer to film. She has gotten pretty big but is very lean. She is the most cuddly kitty I have ever known. She is always snuggling with me or Sean. If we give each other attention, she walks right up and sits between us. She has such a great personality! She had a wonderful Christmas, we spoiled her with treats, and toys as did my brother and my aunt. Everyone just loves her! 
Jeetah loves to watch television with us. I got the flu a few weeks ago and was watching Tom and Jerry. She literally sat in front of the tv for hours watching with us. She also likes video games. Sean was playing hockey on PS2 and she was trying to swat at the players on the screen. She makes me laugh everyday! 
She is so chatty but its so adorable. When I get up in the morning, she tells me all about her night. She does have different meows for different things, sometimes I know them other times, I think she just wants attention. Sean can literally have conversations with her! I always laugh cause she listens so well, then does what ever she wants. LOL  
Michelle
---
......The kittens saw my vet today. He has Siamese as pets, and he commented on how well socialized and good with people they seemed. He said you really knew what you were doing. I wanted to pass the compliment along....
......Romeo gives them a wide birth. They choose paths around him, but no posturing or fighting. This is better than any experience I have had introducing a new kitten to a resident cat......  Sincerely, Linda (New York)

UPDATE ......Jude, Jaya, and Romeo are now all pals. I think Romeo loves having kittens that play with him, instead of Mae-Mae, who was a geriatric cat and, even when middle-aged, never really tolerated him well. He still lets them know he's top cat, but they follow him around and don't shy away from him. Jude likes attention, but it has to be when he's in the mood. Jaya is my cat! She jumps on the bed each night meowing and purring, and I'm not allowed to go to sleep until she is satisfied she has had enough petting. I'll send along some pictures as soon as I can.
Happy New Year! Linda
---
---
All images, text, and all other contents of this site are protected by copyright law.
The contents of this site may not be reproduced, distributed, exhibited, published, or used in any form, in whole or in part, without prior written permission from the copyright holder.
All images, and text copyright © Black&Tan, 2000-2013 | All Rights Reserved | Contact
---