December 16th - BIRTH DAY -Fenya woke me up just after 7am telling me today is the day. She couldn't stop licking me, lol. We will spend the day in my office/kitten room. Fenya is nesting in the bath towels that are in her box. I also removed the beds and added towels to the corner cabinet. She has gone into the corner twice but prefers the box. A one inch bubble of fluid appears. She is very agitated but is not having any obvious contractions. At 9:50am the bubble broke. I've never seen a bubble like this before. I see no evidence of a kitten. I believe this is the equivalent to her "water breaking". I sit at the front of her box and rub her tummy and stroke her face. She spends all her time grooming my hand. I have to keep my palm toward her so protect my skin from her rough tongue, lol.

Unfortunately, My husband scheduled an appointment for our phone service to be changed today.

This fall I made a couple of phone calls to a breeder in the UK. After the second call Verizon immediately called us and said we had to pay the $250.00 bill for the call or they would shut off our phone service. This was quite a shock since the call was less then an hour. This bill was totally our fault. I've never called outside the US and had no idea I have to have a special phone plan to do so. I didn't know long distance didn't include international calling. We paid the fee but the problem we have with Verizon is that they did not inform me before the calls were put through, no warning or confirmation. They didn't inform me after the first call that was very short. When we spoke to them about how they handled this they were not willing to work with us in any way. (This past summer Verizon demanded its workers receive compensation cuts while their profits soared. Oct Verizon reported profits of $1.38 billion for the quarter, up from $659 million last year, on revenues of $27.9 billion.) Not caring about your workers or customers is a bad way to do business in my opinion. We have dropped their home phone service.

The new phone service tech called that he was coming early. I was able to show him to the service area in the basement and came back up to be with Fen. I have the French doors closed to keep the room temp up above 80 F. The tech had to ask me a couple of questions which upset Fen. She peered around her box toward him and growled. Poor girl I did my best to sooth her. Fen is a little bit of a drama queen and always has been. When I tried to trim her nails as a kitten she would scream and jerk her paw away as if I cut the quick ....before I even clipped her nail, lol. As things quieted down her contractions started. As the delivery progressed the phone guy came to the door again and called in to me. I tried to answer but Fenya started screaming. I called to him we were having kittens, lol. Fen screamed like a demon and the first kitten was out at 12:20 pm. Poor Fen was very stressed at my raising my voice to talk to the phone guy through the door but she set about taking care of her new baby. The baby squirmed and snuffled. I made sure the placenta was delivered and allowed mom to eat it, its rich with nutrients she needs and a natural part of this process. She cleaned up the kitten and I went and signed the phone guys paperwork and sent him on his way.

Contraction have stopped and I'm not surprised with the stress she felt. I sit with her and calm her. She allows me to weigh the kitten, I think its a girl. For the next 4 hours we wait and rest. Kitten one is strong and vigorously moves about in search of a nipple to nurse. I hear little smacking noises when she finds one, lol. She latches on well. There is plenty of time for photos. Our next kitten doesn't come for over 6 hours.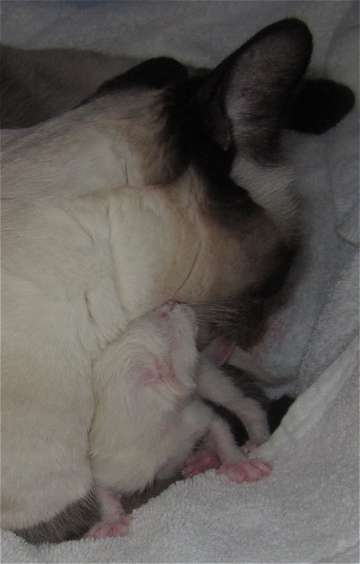 Kitten one (Gwen) getting cleaned up. She pushed her muzzle up into moms fur in search of a nipple.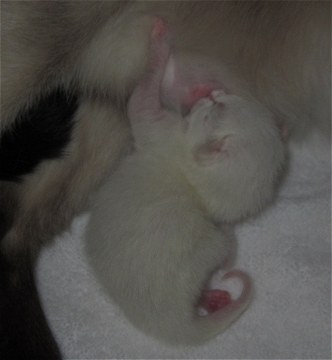 Gwen finds her nipple and is latched on suckling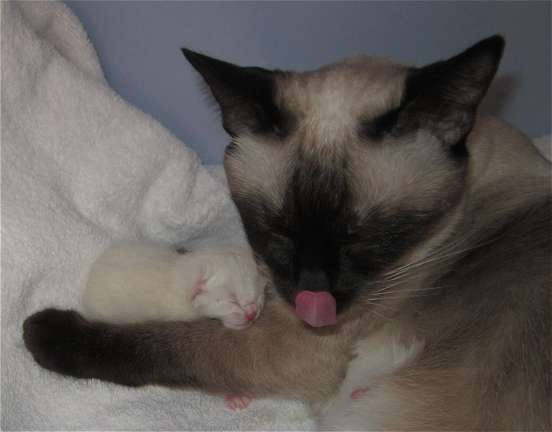 Gwen still getting licked at the back of the box.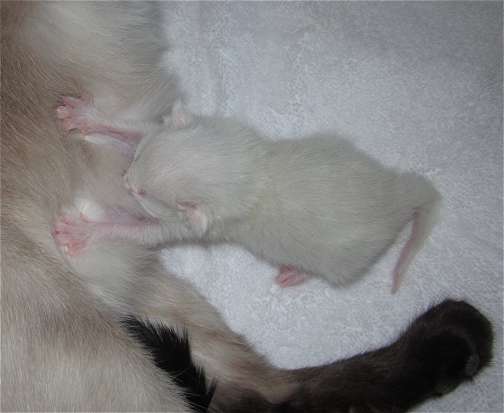 Gwen giving it her all
At :4:30 I put a call into my Vets office to see what my options will be if labor does not begin again. I started worrying about this a half hour after kitten one was born. My option tonight will be to go to Tufts ER if necessary. I really want to avoid a c-section if we can. We can feel a kitten in the center of Fen's side moving about. No one seems to be in any real distress so we wait. My daughter comes in to sit with Fen. My hope is this will help to relax her. Fen likes to sit with my daughter when she is on her computer or playing the x-box. My daughter works on her school work until 6:30pm when Fenya yells again. Kitten two is presenting. I encourage Fen to turn so I can see and with a couple exclamations from Fen he is out. Fen begins licking him and taking care of him. He's moving :). She yells again and his placenta is expelled. Kitten two cries out. A nice healthy cry :), I'm relieved. Many times the "hold up" kitten is still born. She just finishes eating the placenta when she is distracted by the birth of kitten three. I hand kitten two to my daughter to rub dry with a terry cloth. Fenya yells again and I think kitten three is out. She is positioned so I can't see well. I see his head and he is moving :). Momma is working on cleaning him. She rotates around and expels the placenta. I can see now and I tear the cord free of the placenta pinching it with my fingernails to stop blood flow and breaking the connection because she is pulling the kitten by the cord as she works on the placenta. I pick kitten three up and rub his face with terry cloth until I hear him snuffle. I rub him and we place him back with Momma. We weigh kitten two and mark him red. We use non-toxic permanent markers to mark the kittens so we can tell them apart and measure their progress. One mark on the kittens back and one under their arm pit just in case mom licks the back mark clean off. Arm pits get less cleaning, lol. Kitten two is put back with the other kittens. As kitten three becomes fluffy we mark him blue. I think two and three are boys. I have been mistaken before with my first guess at sex so these may change but I think I have it right. We give them names just for the use of the diary. The kittens owners will give them their forever names when they go home.
The Stats at birth
#1 12:20 pm white – Gwen – 92.5 grams (3.25 ounces)
#2 6:30 pm red – Arthur – 106.8 grams (3.75 ounces)
#3 6:40 pm blue – Merlin – 99.6 grams (3.5 ounces)
If its not obvious these name come from the tales that are inspired by the Arthurian Legend. A new season of of the series Merlin starts on SYFY January 6th.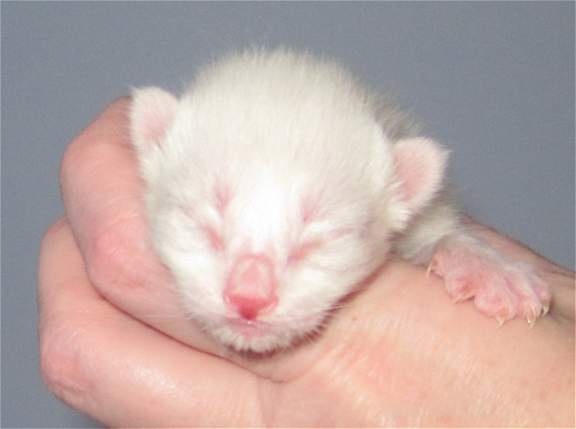 Gwen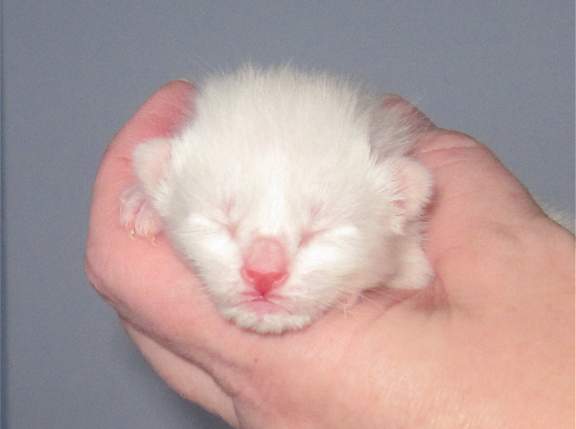 Arthur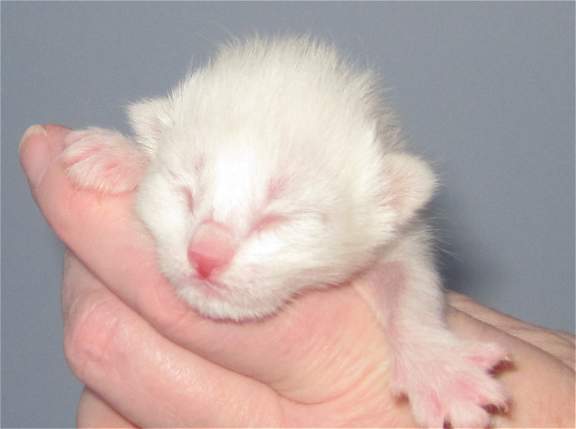 Merlin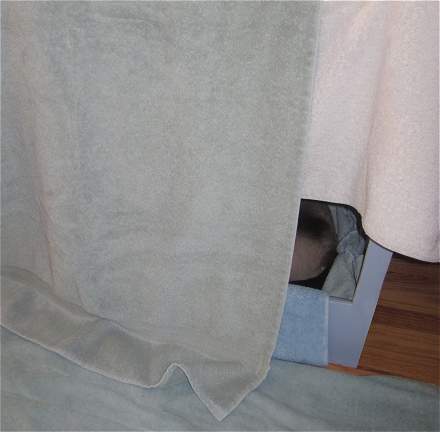 This is home for the newborns. I gently help wash momma's fur and changed out the bedding. They are settled in for the night.