Maeve Guinness of Black &Tan
---
Foundation Queen Retired
Maeve is the highest quality cat we have owned. She is from rare Cuban lines out of the Ladu cattery. Her sire was Max-A-Million.
Maeve - is now retired from breeding. She is the mother of our retired queen Finola, current breeding queen Keva and grandmother of Fenya.
Maeve parented our Spring 2005 litter, Fall 2005 litter, Spring 2006 litter, and our Murphy Litter that ended her breeding career.
This photo is of Maeve at 5 years of age.
On 6/28/2010 Maeve weighed 6.5 lbs. She is a petite princess Siamese.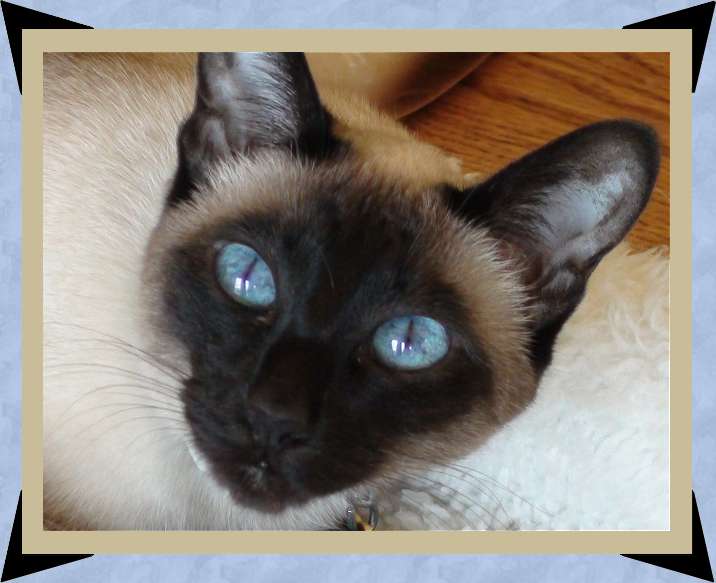 ---
Nicknames: Little Miss Maevee, Momma Maevee, and now Grandma Maevee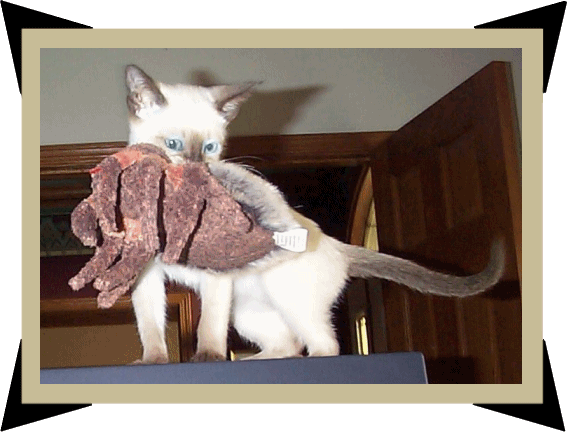 How I got my name...Maeve was an Celtic Warrior Princess.
I may look like a princess but I am a tough cookie when it comes to beanie baby spiders.
Maeve pronounced "may + v" from the Irish name Méabh meaning "the cause of great joy" or "she who intoxicates."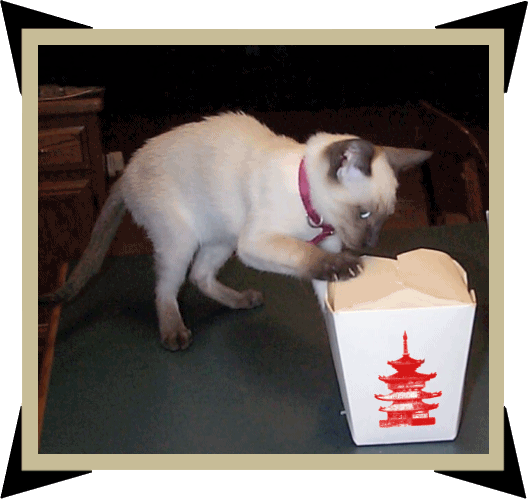 Yum, Thai again for dinner. I wonder if its chicken or pork?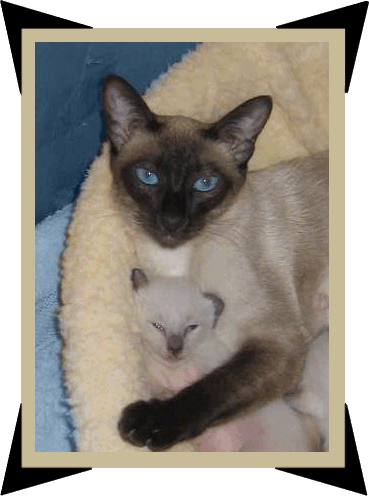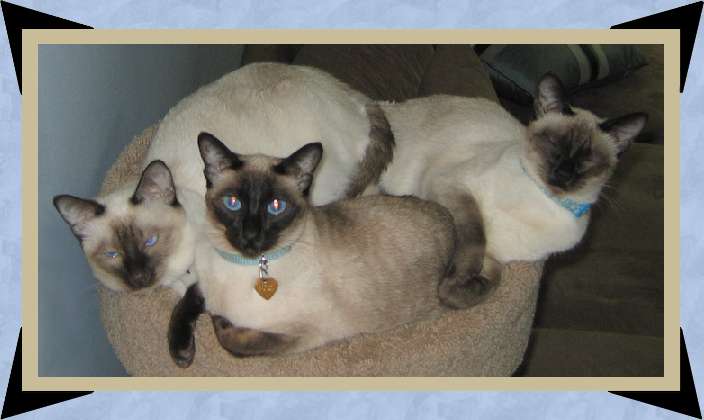 Keva (left) Maeve (center) and Finola (right)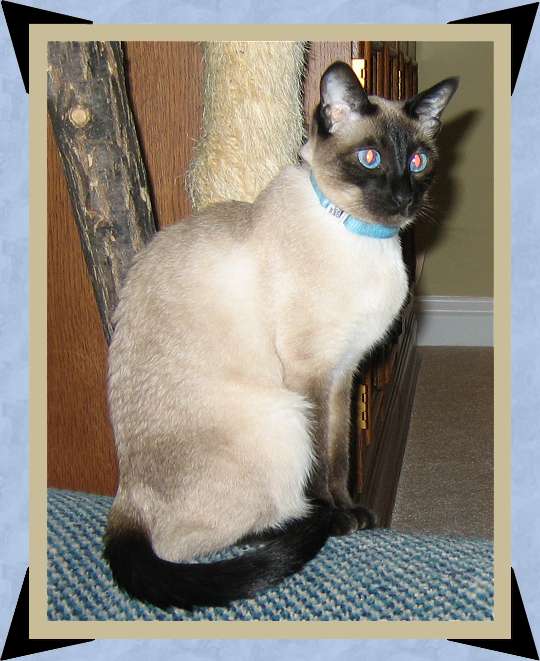 Maeve's 6 year birthday photos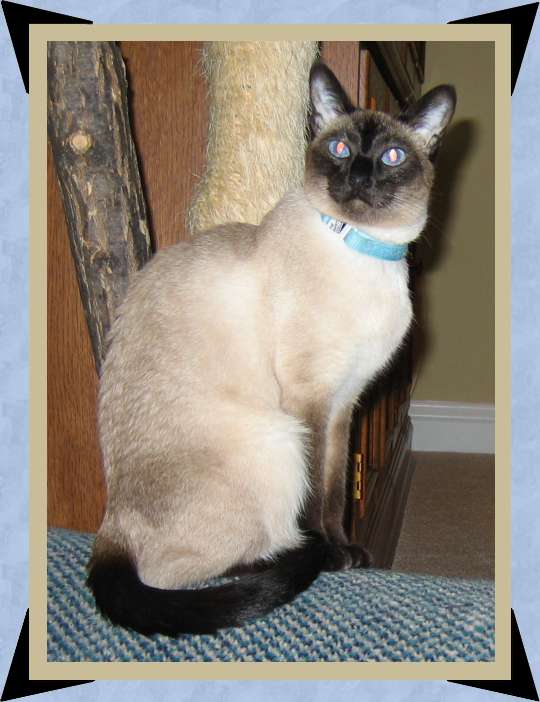 Maeve Guinness of Black &Tan
8/18/2004 - 6/18/ 2011
Maeve died on 6/22/2011 of renal failure due to damage and scaring from pet food melamine crystals and infections.
We expected Maeve to have a shortened life span and to have her kidneys fail due to damage from the crystal formations in her kidneys. She had eaten the recalled melamine tainted cat food in 2007. She was our only cat to eat this food. It was her special treat after her last litter difficulties.
The local lab pathology report showed she died as a result of anti freeze poisoning. This was not possible as Maeve was an indoor only cat. We requested a second opinion pathology report be done at Cornell University's Animal health Diagnostic Center. They confirmed she did not die of anti freeze poisoning. The melamine played a roll in the genesis of her kidney failure.
More details and thoughts on Maeve's Necropsy page.
We know for certain that Maeve did not die of a genetic kidney disease. Too many people are quick to jump to that conclusion when they hear a pure bred cat has died from kidney failure. As we saw with Sasha (Keva's fall 2008 litter), causes of acute renal failure need to be investigated so proper treatment can be instituted in time to save the lives we can. Sasha is alive and healthy because her owner questioned what she was being told. She argued with her vet to get proper treatment for a simple kidney infection.
If your pet dies of kidney failure you don't have to do a full necropsy to learn why. You can have your vet send in a kidney biopsy. I'll add my cost as soon as I find out what the total is. This was a necessary expense for my breeding program. The results of a biopsy may not give you a definitive cause of damage.
During the last few weeks of Maeve's life I began taking her outside with me to enjoy the garden. She loved sitting on the porch or on rocks where she watched the very active chipmunks pop in and out of their tunnels. If we were inside she would sit at the door and beg me to take her outside. She died at home in her sleep.
Maeve kept her beautiful light coat. Her body never darkened. She had nice black points. She was a high contrast Siamese.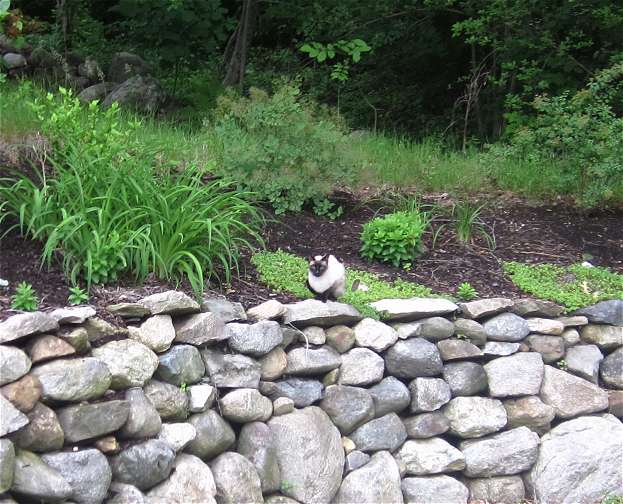 We will continue to update "The View from Grandma Maeve's Porch" in her memory.
---
The View From Grandma Maeve's Porch
Maeve's "enjoying the good life" blog
See our historic Siamese pages for more information on Siamese of the past.
---
All images, text, and all other contents of this site are protected by copyright law.
The contents of this site may not be reproduced, distributed, exhibited, published, or used in any form, in whole or in part, without prior written permission from the copyright holder.
All images, and text copyright © Black&Tan, 2000-2013 | All Rights Reserved | Contact
---