April 11th - BIRTH DAY - I stayed up with Fenya until 2:30 am. There was no indication of anything happening so I went to bed. At 7:20 am when we checked on her she had three fluffy babies in bed with her in the corner cabinet. She was very agitated and running about while telling me what she had accomplished all alone. The nest was pretty clean considering she delivered three babies in it. We will have to assume she also delivered the placentas and ate them. We will watch her for any signs of infection just in case she may have retained any of them. I moved her babies into the clean birthing box and settled her in with them and began trying to relax her with the hope she would resume labor. We weighed the babies and marked them so I can tell them apart. I made sure each one was able to latch on and nurse, and we waited. At 11:30 she began with new contractions and at 11:46 kitten four was born head first. Kitten five was stillborn at 3:45pm just after we made arrangements to go to the hospital. He looked as if he had been mal-positioned in the uterus. He has a thin wedge head and a long body. Fenya is doing well with her quartet.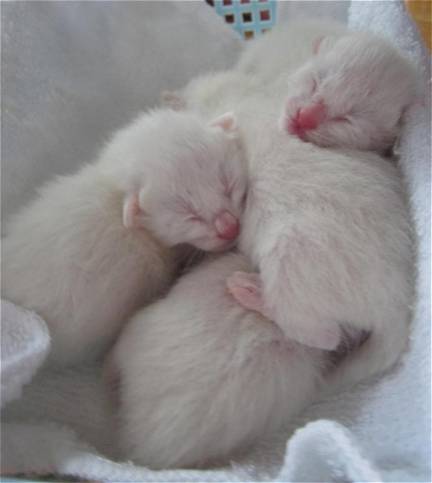 The four winds converging.
The Stats at birth
#1 ?:00 am green – Boreas – 96.86 grams (3.375 ounces)
#2 ?:00 am pink – Notus – 88.969 grams (3.125 ounces)
#3 ?:00 pm white – Eurus – 99.645 grams (3.5 ounces)
#4 11:46 pm blue – Zephyrus – 110.321 grams (3.875 ounces)
#5 -3:45 pm none –110.321 grams (3.875 ounces) stillborn
Boreas, god of the north wind
Notus, god of the south wind
Eurus, god of the east wind
Zephyrus, god of the west wind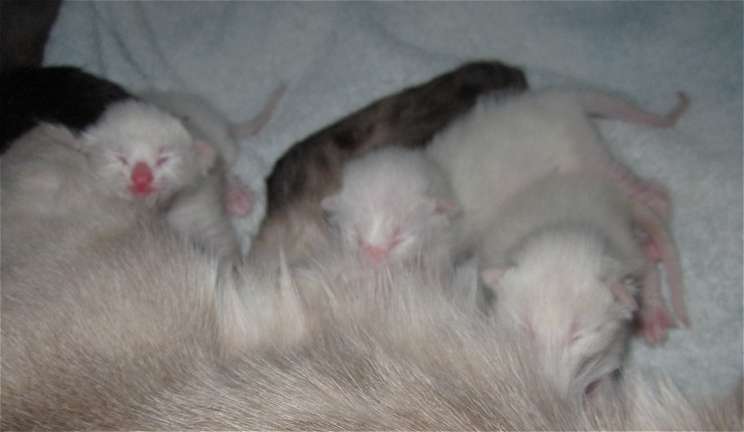 First three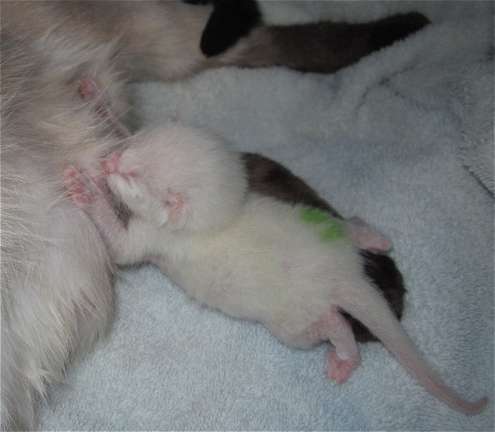 This little guy was the first to latch on and nurse while I watched.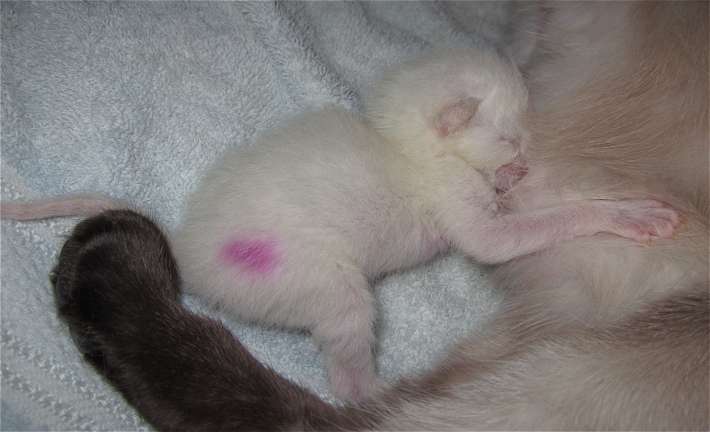 Then I got this one to latch on.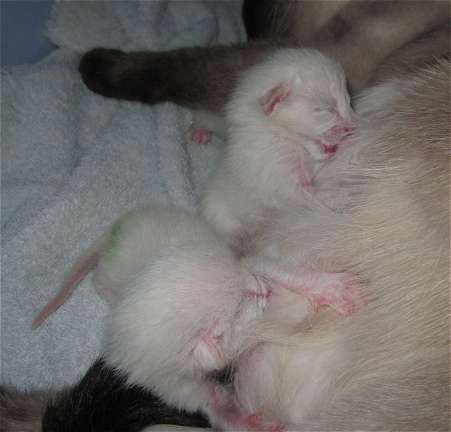 It took more time to get the third one interested but finally 3 latched on too.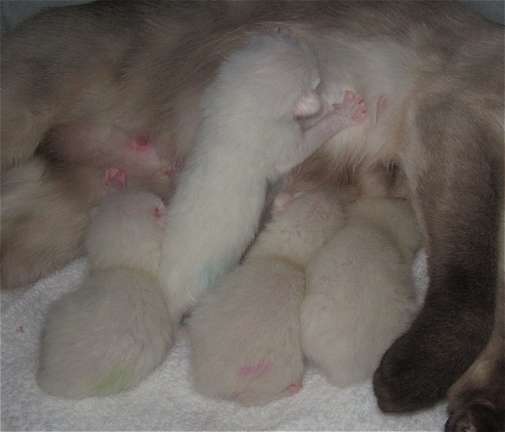 It was two hours before four decided to nurse. Hmm looks like there could be a chocolate from the light coat.
I'm going to guess we have two boys, two girls, three seals and one chocolate.... Time will tell.