June 7th, 2017 - Birthday -

The Stats at birth

#1 9:47pm blue – Everes – 92.528 grams (3.25 ounces)

#2 10:03 pm red – Vanessa – 99.645 grams (3.5 ounces)

#3 10.20 pm green – Luna – 85.410 grams (3.00 ounces)

#4 11:40 pm white – Pieris – 81.851 grams (2.875 ounces)

#5 9:33 pm -stillborn – 81.851 grams (2.875 ounces)

This was a litter of five, the first kitten delivered was still born and we could not revive it. We believe it sat in the birth canal too long without oxygen. Grainne was talking to us a lot during the day and asking for belly rubs. I think she knew.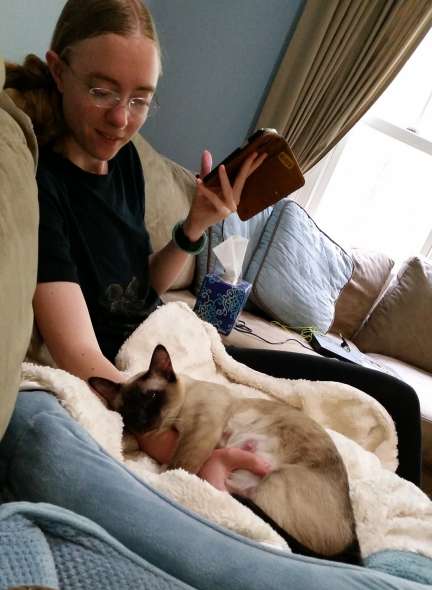 We are grateful she delivered it and we were about to have 4 more healthy kittens. The deliveries were optimal with no problems. Kittens were born tail , head, tail, head, tail presentations.
They are named after local butterflies/moths
Blue- Everes comyntas (eastern tailed blue) - Everes
Red- Vanessa cardui (painted lady) - Vanessa or Van if we see its a boy, lol
Green- Actias luna (luna moth) - Luna
White- Pieris napi (cabbage white) - Pieris
I have not determined sex of the kittens. Their names and my calling them him, he, her or she is not a reflection of their true sex. It can be very difficult to determine sex at this age. The names we use are just color association labels for the diary. Owners will rename them when they go to their homes.