January 31st - Birth Day! -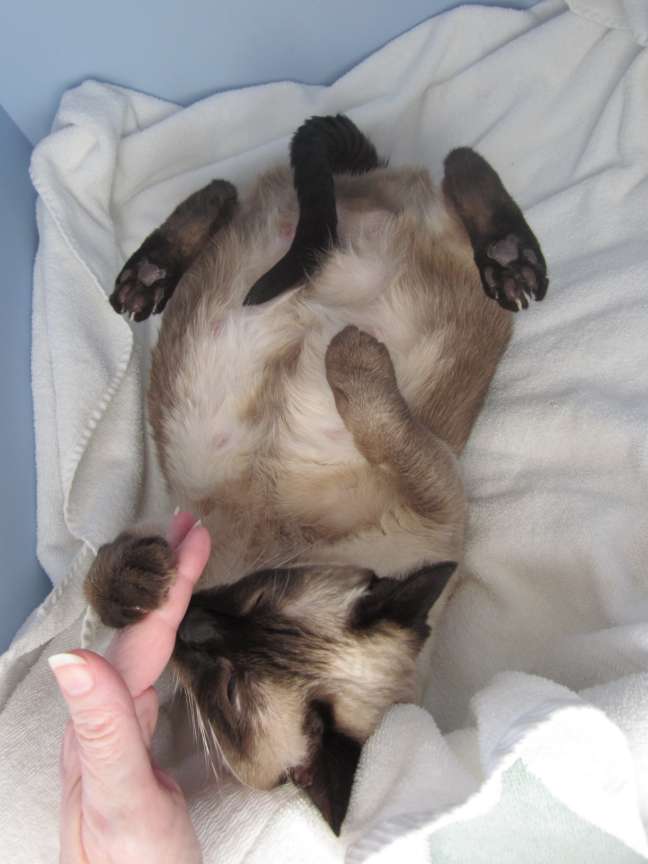 Fen grooming my fingers while labor begins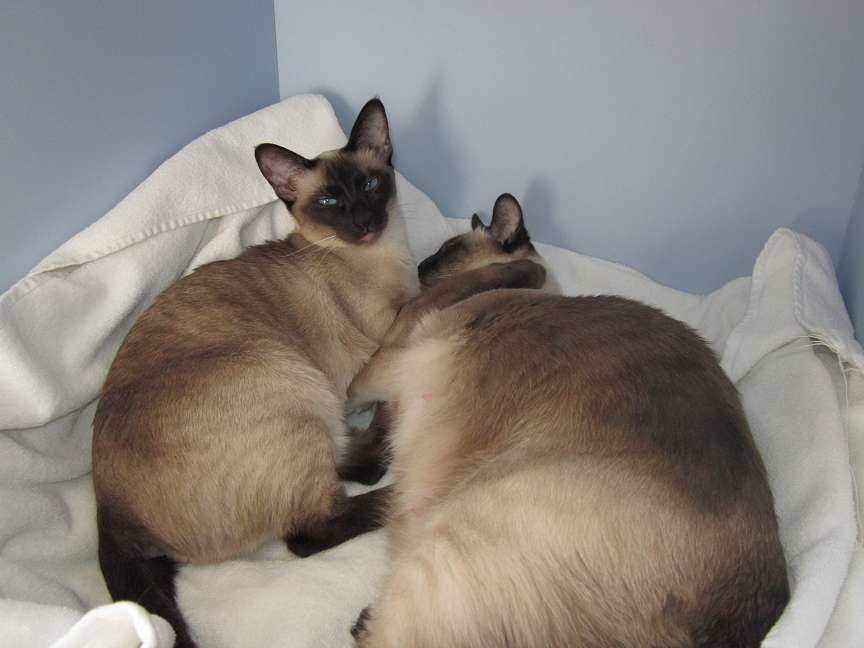 Grainne comforting and grooming Fen
Fenya began labor at 1 pm, the first kitten was born tail first at 1:44pm.. It looks like it might be a girl? She weighs a nice 3 ounces. Kitten two was born at 2:02 pm head first. Looks to be a boy? He weighs in at 3 1/8 ounces. The labor stops and Fenya does some random contractions but no active labor. She has done this too us before. So we wait for labor to begin again. It doesn't and we start to worry as each hour passes. We begin looking at our options and learn our vet is down on the Cape for the day. She will be back Sunday morning. At 7 pm we head to Tufts. The attending Vet does a x-ray to see positions, and an ultrasound to check hearts. They say everything is normal and tell us to go home and wait for labor to begin again. They said they felt a kitten head in the birth canal and it is in correct position for delivery. The attending says cats can stop labor for two days. We are to call if delivery does not begin by 2 pm tomorrow. I believe this would have been handled differently by our Vet. I'm sorry she was out of town.
February 1st - I check Fen through the night. Labor does not begin. This morning at 7:30am we see a bubble with two feet but Fen is not in active labor. She is having random light contractions. We wait for her contractions to increase and labor to increase. It never does. I try to help tug the kittens feet when she has a contraction. It clearly hurts her. No head is visible and I can't feel it. When the sack breaks we contact our Vet. She meets us at the animal hospital. I go there knowing this kitten is lost and hoping the others will be okay and hoping to avoid surgery. Removing this kitten is very difficult. Its stuck because its head is flipped back. Like it looked up and over its back. The Vet cannot get her fingers around the head and cannot move it. She tried pushing the kitten back in hoping the head will change positions. It doesn't. We work for what must have been an hour, poor Fen. We are successful in removing the kitten. It is not viable. Fen is so stressed we all agree it would be good to let her rest and relax and allow her to try to start labor again on her own. We do come home with oxytocin to induce contractions if she needs it. It's decided we should wait three hours before beginning the oxy.
By the time we arrive home I find a kitten born in the crate. Its warm and I grab it up and break the sack and begin rubbing it. I get Fen to lick it but it never responds. There are signs of stress in the amniotic sack (kitten poo). Fen is now in her birthing box with her babies and the next kitten #5 is delivered. It's sack is filled with yellow goo. Another sign of fetal stress. It is also non responsive.
With hindsight, These kittens should have been delivered last night when they could have survived. The stuck kitten caused the loss of all three. I am happy Fen did not have to have surgery to remove them today.
There is a video of Lily and Peter soon after birth nursing posted on our facebook page
https://www.facebook.com/video.php?v=10152796388817917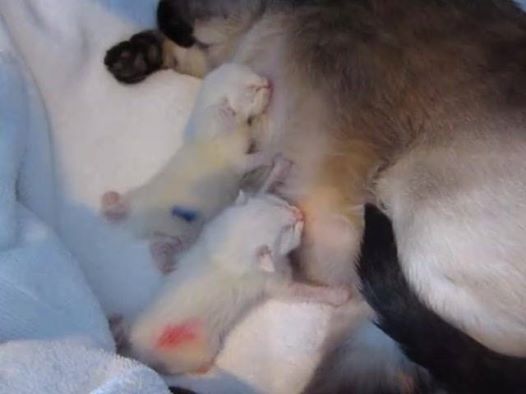 Since these will be Easter kittens we have named them Lily and Peter. Lily is marked Red now but we will not re-mark her. Only one needs a color to tell them apart.
The Stats at birth
#1 1:44 pm red – Lily – 85.4 grams (3.0 ounces)
#2 2:02 pm blue – Peter – 88.9 grams (3.125 ounces)
February 1st
#3 -11:00 am stuck - stillborn at hospital
#4 -12:30 am stillborn easy birth
#5 -11:00 am stillborn easy birth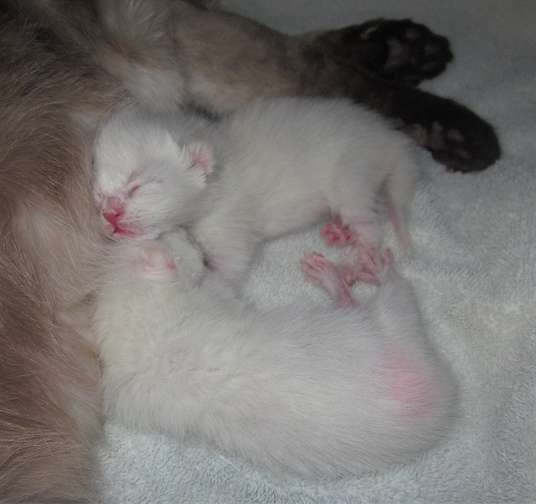 Afternoon weigh in......
Lily is 3.375 ounces = 96 grams - up 10.7 grams
Peter is 3.625 ounces = 103.2 grams - up 14.2 grams