February 10th - Birth Day - We awoke to find Fenya had been leaving spots of blood all over the room. Her towels in the birthing box were also spotted. Today is labor day, lol. Fenya continued to spot small puddles of blood all day. We closed the curtains to darken the room, its a sunny day. The room is nice and warm. Grainne is nesting with her. We decided to check her once an hour as she is not having any contractions. Giving her complete quiet. She likes to have her kittens at night.

At 8:00pm she had one contraction after 20 minutes of observation. At 8:56pm we found momma with a newly born kitten. Its a nice sized kitten weighing 3 1/8 ounces.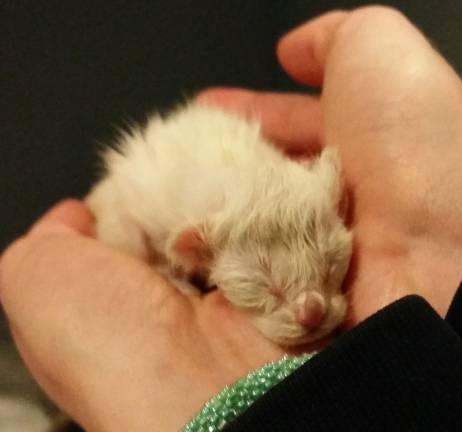 Now we will sit with her and not leave. We've sent Grainne out of the room. Kitten two presents with a tail not in a sack. Fenya is having trouble with this one. With sterile gloves we add k-y to help lubricate and ease. Back feet are out but this kitten is not delivering as expected. We are required to assist. Its clearly difficult for Fen but she is not distressed or indicating a serious block. We begin assisting delivery with each contraction. Its not going well. You have to be gentle so you don't tear the mom. Kitten two was finally delivered at 9:45 is was unresponsive and huge. It was twice the size of an average kitten for us. A kitten fetus will grow to fill the space available. You want a nice sized litter to control the size of each kitten so they don't get too big to deliver. I'm guessing this kitten was in one horn of the uterus with no other kittens. The placenta was torn and small and tight against the sack surrounding the kitten. I guessing that the placenta tore loose and that was the bloody discharge we were seeing. The first kitten was in line to be born first so this one had to wait., lessening the chances it would have survived. The trauma of this delivery has stopped all labor. Momma is resting.
Kitten one is still not latching on to nurse. I concentrate on assisting the kitten. We make a simple sugar water mix and wet the nipple with it. That gets the kitten smacking. It finally latches on at 11:00 pm. Big sigh from me, lol
I've rubbed Fen's belly. I can't feel any obvious kittens. We look at the x-rays again trying to assess if there could be more kittens or is this it? I never seen more than two skulls. At about 1:30am she had a couple small shudders but labor did not begin again. She continues to spot blood. in little puddles. It makes me wonder if the rest of the placenta is in there still.
The Stats at birth
#1 before 8:56 pm – Neo – 88.9 grams ( 3.125 ounces)
#2 9.45 pm – difficult protracted delivery - still born
February 11th -
#3 – surgical delivery - still born
February 11th -
At 9 am we call into the Vet. Fen has made no progress we need an x-ray to see if there are any more kittens. We're told to bring her in at 10:30 am to see the available doctor. I've never met Dr. Cosman, I like him. He's very nice and knowledgeable. He doesn't feel a kitten but if there is only one you often can't feel it. He does feel that her uterus is very swollen and he is concerned that she may have a tear in the uterus. She could be bleeding internally. An x-ray will determine if there is a kitten or and blood accumulating.
Fen is being such a good girl through all this poking and prodding. The x-ray shows no blood, whew, and one kitten remains. Its in a terrible position and its unlikely to deliver normally. The doctor advises against even trying oxytocin. He recommends we go to the ER. The closest ER.