January 22nd - Birth Day - Grainne began showing signs she was going to deliver this morning around 9 am. As she progressed she became distressed and vocal about her discomfort.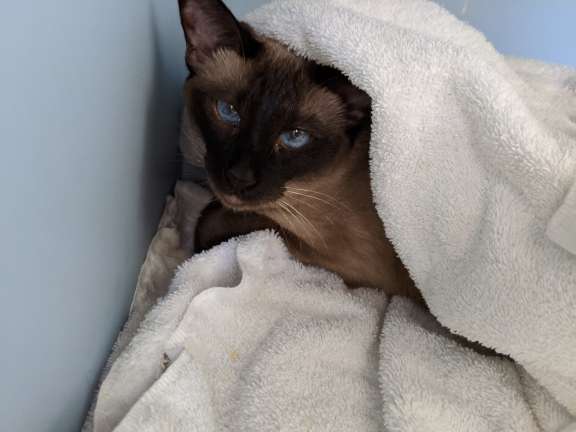 "I'm uncomfortable meowmy and it keeps following me, even when I try to hide from it."
She kept moving between her birthing box and the corner cabinet nesting area. On her last trip over to the corner nest I noticed she was limping on her hind leg. Around 2 pm I noticed the pointed tip off a tail showing.
Kitten one was delivered at 2:12pm This was a stressed birth but the kitten cried right away and was active. Momma licked it a bit and it peeped backed to her. It was still connected to the placenta which had not been expelled yet.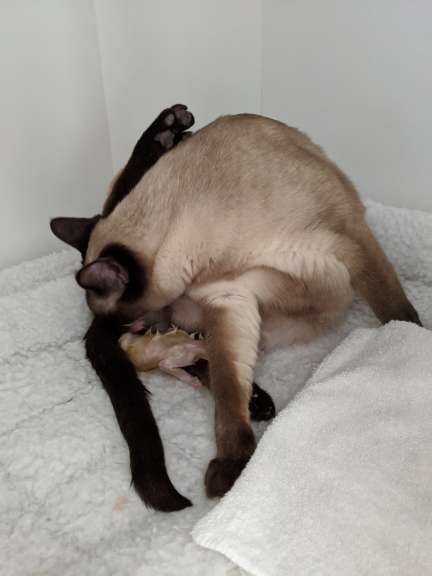 Kitten one newly born.
In a short time the placenta also came and she began chewing it. I was worried about her pulling the kitten around with it. So I cut the cord and removed the kitten to help dry it and keep it warm while she as busy. This was when I realized the red mass still connected was no placenta but intestines. This poor baby had its intestines herniated thru its umbilicus during the stressful delivery. I called my vet for advice right away. She recommended we take it to the ER for evaluation. I sent it off with my husband while I strayed home with Grainne. I knew she had at least one more kitten, maybe more to deliver. Tufts Surgeon confirmed it was a herniation due to stress on the fragile kitten and not a congenital development outside the body. They recommended euthanasia. We said good bye to kitten one. This link is to a graphic photo for any veterinary science minded who want to know what this looked like. herniated kitten photo
Kitten two delivered sometime before 2:50pm while I was sending kitten one off the the ER. It is 2.25 ounces and vigorous. When the placenta was out I cut the cord and placed it on a nipple. It latched on and started nursing right away.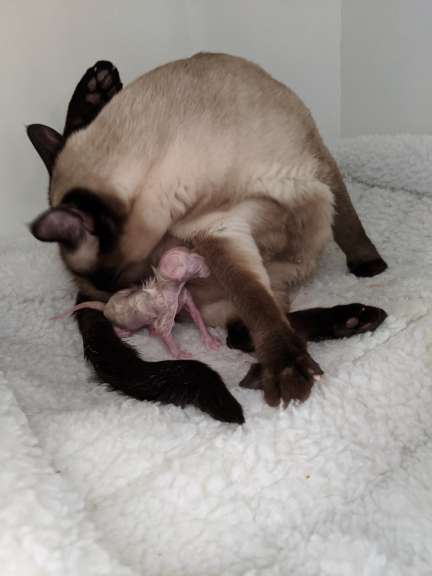 I know this looks like the same kitten picture as the one above but
there were other photos between them so I know its not, lol.
Grainne has been resting since. She becomes stressed if we disturb her so we are leaving her alone. I got her up and out once to change out the bedding and make she she was no longer limping.
When stressed cats can stop labor for a long time. We want her to relax as much as she can.
Kitten three was born before 7:50pm Momma was cleaning it and finishing up chewing the cord length when I checked in on her. This kitten weighs 2.25 ounces also.
Kitten four was found at my 11:30 check. It was separated a bit from Momma and very cold. It did respond with a peep so I scooped it up and ran for warm water. It had been partially cleaned and was dry but gooey. My thought was to warm it with warm water while getting the goo off. I did not wet it very much. We put the small hospital fluid bag we had from the ER, that was used to keep #1 kitten warm, into the microwave and warmed it. I used the small hot water bottle it became to warm the kitten. It worked really well. It warmed up but was still really lethargic. I couldn't get it to move much or latch on. I was really worried we would lose it. Hypothermia is the #1 cause of neonate deaths in felines. My first thought was sugar water (corn syrup water) for quick energy but kitten milk is whey and corn syrup and made for newborns. I mixed up some warm milk and used a dropper to place a few drops on its lips. It licked it. I continued this for some time. It didn't drink it by any measure but I got some into it. I worked with it until I saw it latch on to a nipple. It wasn't sucking but it showed it knew what it was supposed to do.
Latched on but too tired to suckle.
I touched it's head to see if it would stimulate it to suckle.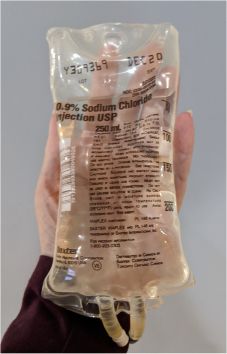 This little bag was a life saver tonight.
The "hot water bottle"
The corner of the room isn't the warmest place in the room even with the ceramic heater running. I turned the heat in the room up to over 85. It will fluctuate when its off so I wanted to be sure it stayed warm. I also added a cat bed electric heating pad under the bed. Its a long strip that only covers half the bed. My hopes were that it would warm the side momma was not laying on just in case the kittens get separated again from her. It was 1 am by this time. I left them to rest in a nice warm clean bed. I checked back in on them until 3 am and they were warm and snug so I went to bed fearing the worst and hoping for the best. The first few days after birth are the most critical. I'll be watching them closely as Momma can manage, its a balancing act..
The Stats at birth
#1 2:12 pm – euthanised
#2 2:50 pm Blue – Mauer – 64 grams (2.25 ounces)
#3 7:55 pm Red – Schneider – 64 grams (2.25 ounces)
#4 12:55 am none – Schmear – 78 grams (2.75 ounces)
The naming scheme for this litter's diary names come from the card game Sheepshead. It's a favorite game of those from Wisconsin and came from German ancestral emigrants in that area.
I have never before been 'not in attendance' for so many births. I feel like that was Grainne's planning?